Introduction
Department of Sociology has been started with the college establishment in the year of 1983-84 as under graduate course with combination of sociology, History, optional Kannada choice based credit system annual system, but now it is semester system. Regarding post Assistant professor sanctioned posts are 2 filled only one post in Jan 2015 and one as guest lecturer. Both faculties profile with name, qualification, designation, specialization mentioned in question no 10. Award of recognition of faculty effort also mentioned in their personal profile. Regarding student's participation in various fields they can participate in co-curricular activities and sport which are organized by college, national level. Due to rural background majority of the students are low communication in English and only 10% students has admitted higher education and one student had joined the PhD research course. Semesterwize seminars have been conducted in class which help students to personality development and maintain the Department quality education. For future we plan to arrange Group discussion on particular issues which enhance the student's leadership quality, subject and language command and presentation skills. Number of students are participates in NSS camp where they develop their personality, cooperation to each other, show their talent with co-curricular and by serving the people with group.
Sociology Youtube Channel / Blog
Digital Initiatives
Online Classes Details
B.A IInd Semester
B.A IVth Semester
B.A VIth Semester
Teachmint blog
ACADEMIC PROGRAMMS
1. Name of the Department : SOCIOLOGY
2. Year of establishment : 1983-84
3. Names of programmes offered :B.A
Under GraduateProgramme (UG) Integrated Sociology, History,OptionalKannada
| | | |
| --- | --- | --- |
| Programmes | Year of commencement | sanctioned intake |
| Undergraduate | 1983 | |
| B.A I and IIndsemeser | 2018-19 | 21 |
| B.A IIIrd and IVthsemeser | 2018-19 | 24 |
| B.A Vth and VIth semester | 2018-19 | 18 |
Curriculum delivary Planning
In order to integrate the academic course and Department goals and objectives, the following efforts are being made by the Dept:
The contents beyond syllabus are identified as gap areas in the curriculum and contemporary issues relevant to the domain are taught in the class room.
The special class arranged for the students from time to time.
Peer-to-peer learning are encouraged.
Plan to give the subject assignments
The Department of Sociology deploys the following action plans for the smooth implementation of curriculum:
Course File
Day-wise teaching plan for the whole course curriculum to be covered in the semester.
Planning to weekly tutorial for slow learner students.
Provide Study Material.
Academic Calendar showing the schedule of academic support activities of the semester.
Department-wise timetable is prepared well before the start of the classes and is followed throughout the semester.
Curriculum is divided into three parts. After completion of each part, unit test/surprise test/internal tests are conducting.
Students are given assignments and tutorials as per mentioned in the time table.
Outcome Based Education
The programme educational objectives (PEOs), programme specific objectives (PSOs) and course outcomes (Cos) have been defined for the courses.
The mapping of vision, Mission, PEOs, POs, PSOs and course outcomes (Cos) is done.
Seminars/Expert lectures by the faculty from other reputed institutes are arranged for the students and faculty members.
To provide the students with hands on experience minimum 1 village visit per semester is made mandatory for all the students' social work (Survey).
The continuous evaluation of the students is done through/unit test, surprise test and 02 internal tests every semester.
Department of sociology
STUDENTS STRENTH AND RESULTS
Statement showing the students Strength for the academic year from 2016-17 to 2018-19
Statement showing the B.A I, III & V Subject wise Strength 2016-17

Course

Optional

Strength

B.A. I Semester

Sociology

22

B.A.III Semester

Sociology

24

B.A.V Semester

Sociology

40
Statement showing the B.A I, III & V Subject wise Strength 2017-18

Course

Optional

Strength

B.A. I Semester

Sociology

25

B.A.III Semester

Sociology

22

B.A.V Semester

Sociology

24
Statement showing the B.A I, III & V Subject wise Strength 2018-19

Course

Optional

Strength

B.A. I Semester

Sociology

21

B.A.III Semester

Sociology

24

B.A.V Semester

Sociology

18
Statement showing the students Result for the academic year from 2016-17 to 2018-19
Class

Subject

Total No. of Appeared

Total No. of Pass

Male

Female

Percentage %

III Class

II Class

I Class

Distinction

Nov/Dec- 2018

B.A.VSemester

Sociology 7 Paper

16

15

7

8

94%

1

3

4

7

Sociology 8 Paper

16

14

7

7

87.50%

2

8

1

3
Class

Subject

Total No. of Appeared

Total No.of Pass

Male

Female

Percentage %

III Class

II Class

I Class

Distinction

May/June- 2018

B.A.VISemester

Sociology 7 Paper

18

18

8

10

100.00%

0

5

6

7

Sociology 8 Paper

18

18

8

10

100.00%

0

6

5

7
Class

Subject

Total No. of Appeared

Total No. of Pass

Male

Female

Percentage %

III Class

II Class

I Class

Distinction

May/June- 2017

B.A.VISemester

Sociology 7 Paper

41

40

8

32

97.56%

5

1

33

Sociology 8 Paper

41

40

8

32

97.56%

5

1

32
Class

Subject

Total No. of Appeared

Total No. of Pass

Male

Female

Percentage %

III Class

II Class

I Class

Distinction

May/June- 2016

B.A.VI

Semester

Sociology 7 Paper

25

25

5

20

100%

Sociology 8 Paper

25

25

5

20

100%
CALENDAR OF EVENTS FOR B

.A Ist ,IIIrd&VthSEMester
ACADEMIC YEAR 2018-19
DATE

EVENTS NAME

LOCATION

1-6-2018

Regular classes begin

Chincholi

12-6-2018-22-6-2018

Went to Paper evaluation duty

Gulbarga University

23-6-2018 to 27-6-2018

Admission work

Chincholi

2-7-2018

Regular classes begin

Chincholi

12-7-2018

Department of Sociology First Meeting

College

1st June to 31st July 2018

Student enrolled in SBSI Internship 2018

college

20-7-2018

Visited Ainolli for SwachhbharathAbhiyan

Ainolli

25/7/2018

Visited chimmaidalia for SwachhbharathAbhiyan

chimmaidalia

27-7-2018

Shramadan at our college

college

1-8-2018

Attended and Celebrated 97th birth day of late shriMahadeveappaRampure

college

2-8-2018

Faculty delivered special lecture on God and Science

Afzalpur

3-8-2018

Visited Gottamgotti for SBSI Activities

Gottamgotti

9-8-2018

Organized welcome party for freshers by IQAC

college

10-8-2018

Visited Buggi for SBSI Activities

Buggi

13-8-2018

Organized Orientation by IQAC

college

15-8-2018

Attended 72 Independence day celebration

college

20-8-2018

Attended Sadbhawan day which is organized by NSS

college

30-8-2018

Collected fund from Local people for help to flood affected people

Chincholi

31-8-2018 to 1-9-2018

Attended and presented paper and one session served as chairperson

Hampi University

4-9-2018

Department of Sociology second Meeting

college

5-9-2018

Attended teachers day celebration

college

6-9-2018 to 8-9-2018

Conducted first internal Assessment test

college

8-9-2018

Attended one day workshop on "New Modalities of NAAC" at MSI Degree college Kalburagi

Kalburagi

11-9-2018

Attended Khajane -2 workshop at our college

college

17-9-2018

Celebration of Hyderabad Karnataka independence day

college

20-9-2018

Organized swachhata hi sevahaiawerness program at our college and Taken pledge by Staff and Student

college

22-9-2018

Presented paper at National seminar At Siddhartath Law college

Kalburagi

24-9-2018

Participated in celebration of NSS day at college

college

26-9-2018

Sent our 2 students to GUK Nss special camp for one week

Kalburagi

26-9-2018-13-10-2018

Conducted class wise seminar by students B.A. IIIrd Semester

college

28-9-2018

Participated in NammaNadesamvidhandkade

Speaker : Dr. smt.Meenakshi Bali

college

1-10-2018

Conducted awareness programm of swachhata hi sevahai

college

10-10-2018 to 12-10-2018

Second Internal Assessment test

college

13-10-2018

Organized special lecture on Importance of study of Scoiology

Resource Person: Dr. C. Somashekhar

Professor and Registrar of GUK

Prisiding Dr. S.H. Hosamani

Chief Guest:Dr. C. V. Kalaburagi

Anchoring: Dr. Manikamma N.S

college

17-10-2018

Staff meeting called by Principal

20-10-2018

Conducted class wise seminar by students for B.A Vth semester

college

22-10-2018

Attended the IQAC coordinator meeting which is arranged by Governing council of HKES

23-10-2018

Semester Last working day

college
CALENDAR OF EVENTS FOR B.A IInd ,IVth&VIthSEMester
ACADEMIC YEAR 2018-19
DATE

EVENTS

LOCATION

16-12-2018

Regular classes begin

chincholi

17-12-2018

Department of Sociology First Meeting

College

20-12-2018

Time table preparation

Turnbull

21-12- 2018

Syllabus and workload distribution

College

22-12- 2018

Semester wise classes begins

Chincholi

31-12- 2018to 10-1-2019

Evaluation duty at GUK

Gulbarga University

11-1-2019

Distribution application to students for register their name in voter ID

College

12-1-2019

Participated in Swam VivekanandJayanti

Chincholi

17-1-2019

Attended IQAC Meeting and Taken criteria II Responsibility for NAAC Accreditation

College

17-1-2019

Visited GangunayakTanda for survey

chincholi

18-1-2019

Attended Meeting at V.G Womens Degree College

College

19-1-2019

Taken written test to classify students as Advance and slow learner

College

20-1-2019

Attended Faculty Development programm at V. G. Womens Degree College

Kalaburagi

21-1-2019

Conducted class Seminar for B.A IInd Semester

College

24-1-2019

Secretory Meeting Governing council Dr. NagendraManthal visited to college

College

25-1-2019

Participated in awareness programm of voterlist registration

College

26-1-2018

Participated in Republic day celebration

College

27-1-2019

Participated in Yoga class conducted by IQAC

College

29-1-2019

Participated in ICT special Lecture organized by IQAC

Resource Person :Smt.SmitaMaragutti

College

6-2-2019

Late shreeMahadevappaRampure Death Annivarsary

College

18-2-2018

IQAC Meeting

College

22-2-2019 to 23-2-2019

Participated and presented national conference at Bidar

Bidat

24-2-2019

Delivering special lecture at GUK

Kalaburagi

26-2-2019

Participated at Kannada bhavan

District level youth festival

Kalaburagi

27-2-2019

Called Dept alumni meet

chincholi

28-2-2019

Visited Gurampalli for continue to SBSI activities

And Conducted Open book exam for BA IIndSemster.

College

7-3-2019

Visited S.S.Maragaol College as Chief guest for NSS Annual specialCamp

Shahabad

8-3-2019

Organized International women's day by women empowerment cell

Served as Scorer in institutional level sports for students

chincholi

9-3-2019

Parents meet

Chincholi

11-3-2019

Called Staff meeting by IQAC

Chincholi

12-3-2019 to 14-3-2019

Conducted First Internal assessment exam

chincholi

18-3-2019

Participated in Swachh Bharat Abhiyan activities

In Harkud temple chincholi

Chincholi

22-3-2019 to 28-3-2019

Participated in NSS Annual special Camp

College

1-4-2019 to 3-4-2019

Second internal assessment test

College

4-4-2019

Attended Staff meeting conducted by Principal

College

8-4-2019

Conducted staff meeting for collecting report for academic activities

College

9-4-2019

Academic Audit Report

College

10-4-2019

Annual Social Gathering

College

10-4-2019

Last day of classes

College
Lesson Plan and Question Papers
LESSON PLAN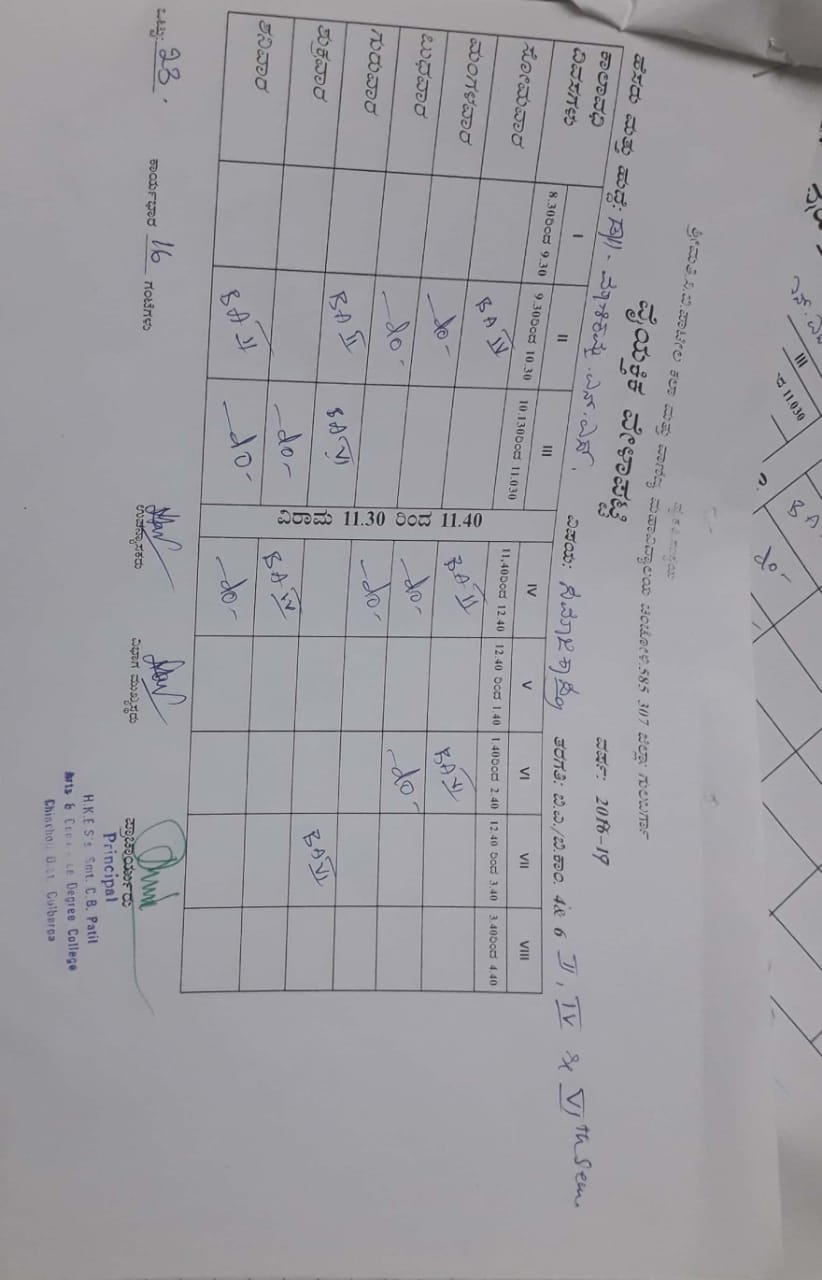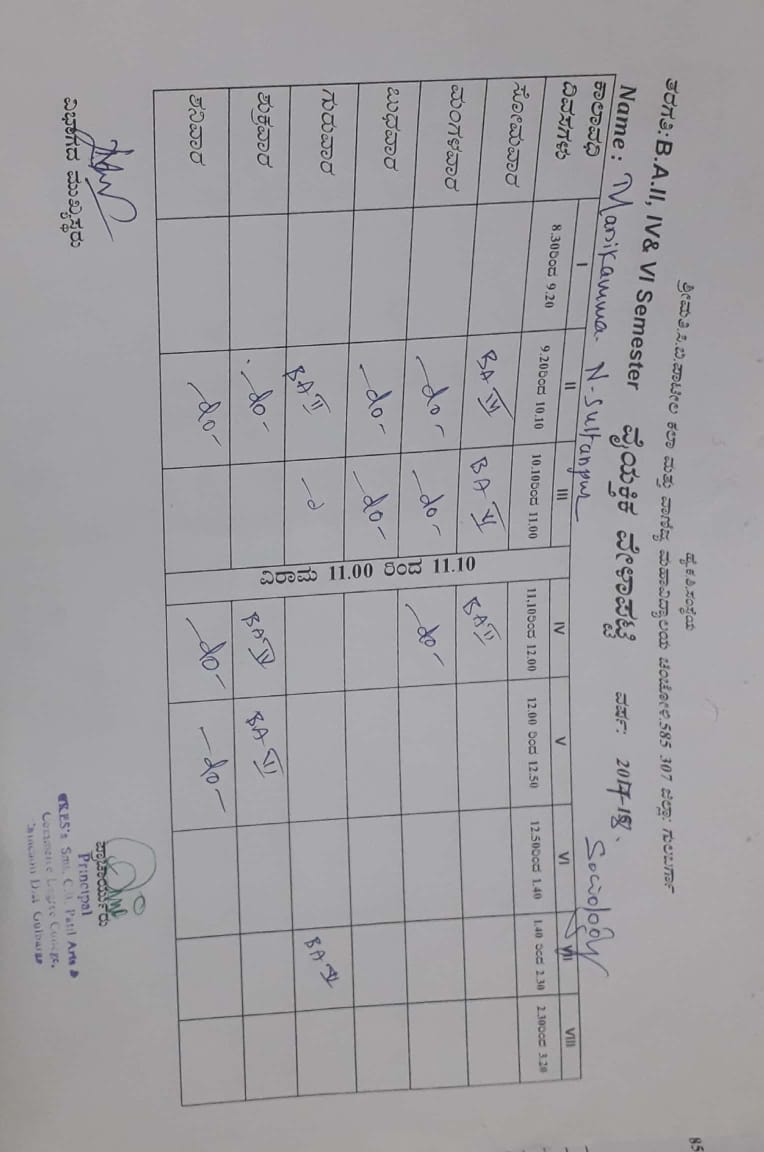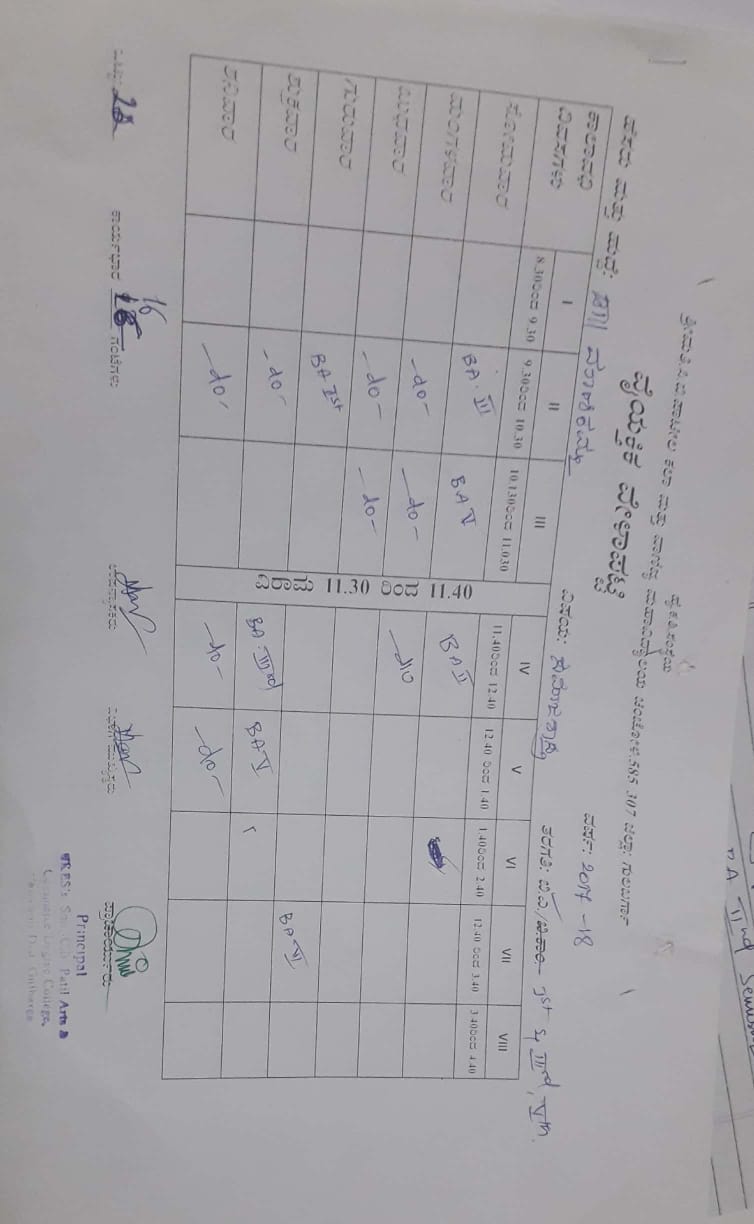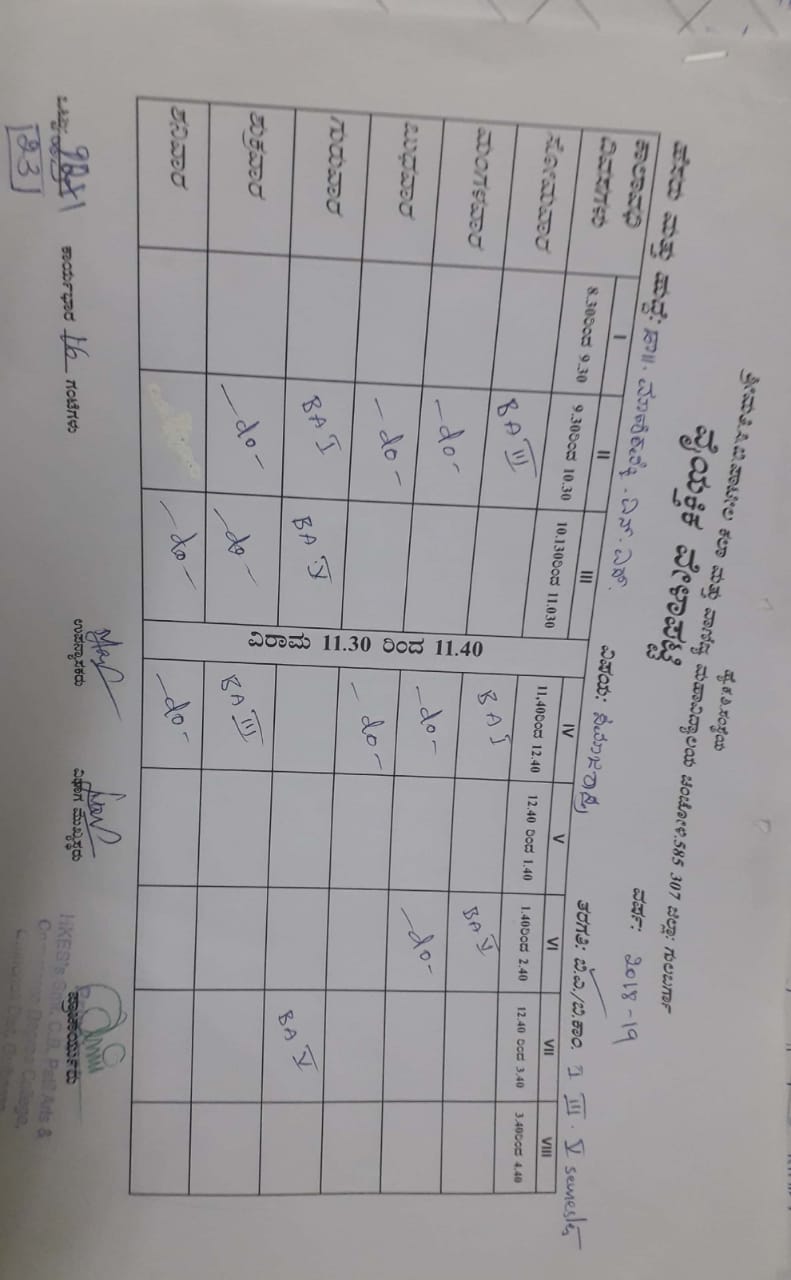 QUESTION BANK
LECTURE NOTES
Lecture Notes of Dr. M. N Sultanpur
B.A Ist semester
B.A IInd Semester
B.A IIIrd semester
B.A IVth Semester
B.A Vth semester
B.A VIth Semester
Head of the Department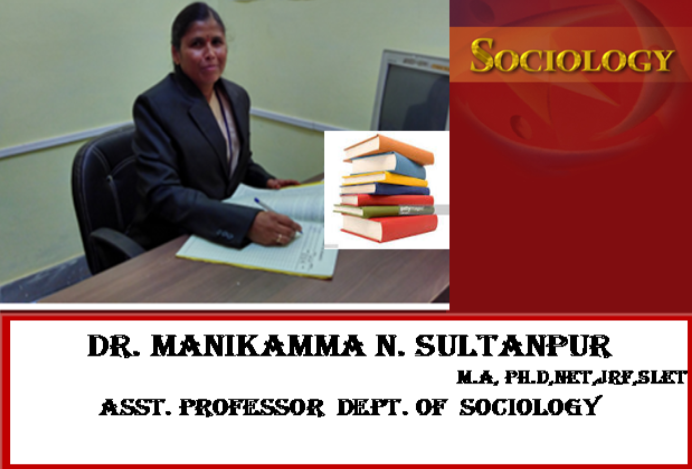 Faculty profile with name, qualification, designation, area of specialization, experience and
Research under guidance
Name of the Faculty

Qualification

Designation

Specialization

No. of Years of Experience

No. of Ph.D./ M.Phil. students guided for the last 4 years

Dr. Manikamma N. Sultanpur

M.A Sociology

M.A

Psychology

B.Ed. Ph.D. JRF-NET

SLET

Asst. Professor

Sociology women and child development, and Public health

5 year

Sri. Machendra B.Gaddimani

M.A , SLET

Guest Lecturer

Rural and Urban Sociology

17

Nil
Research
Teachmint Blog
https://blog.teachmint.com/redefining-teaching-with-teachmint/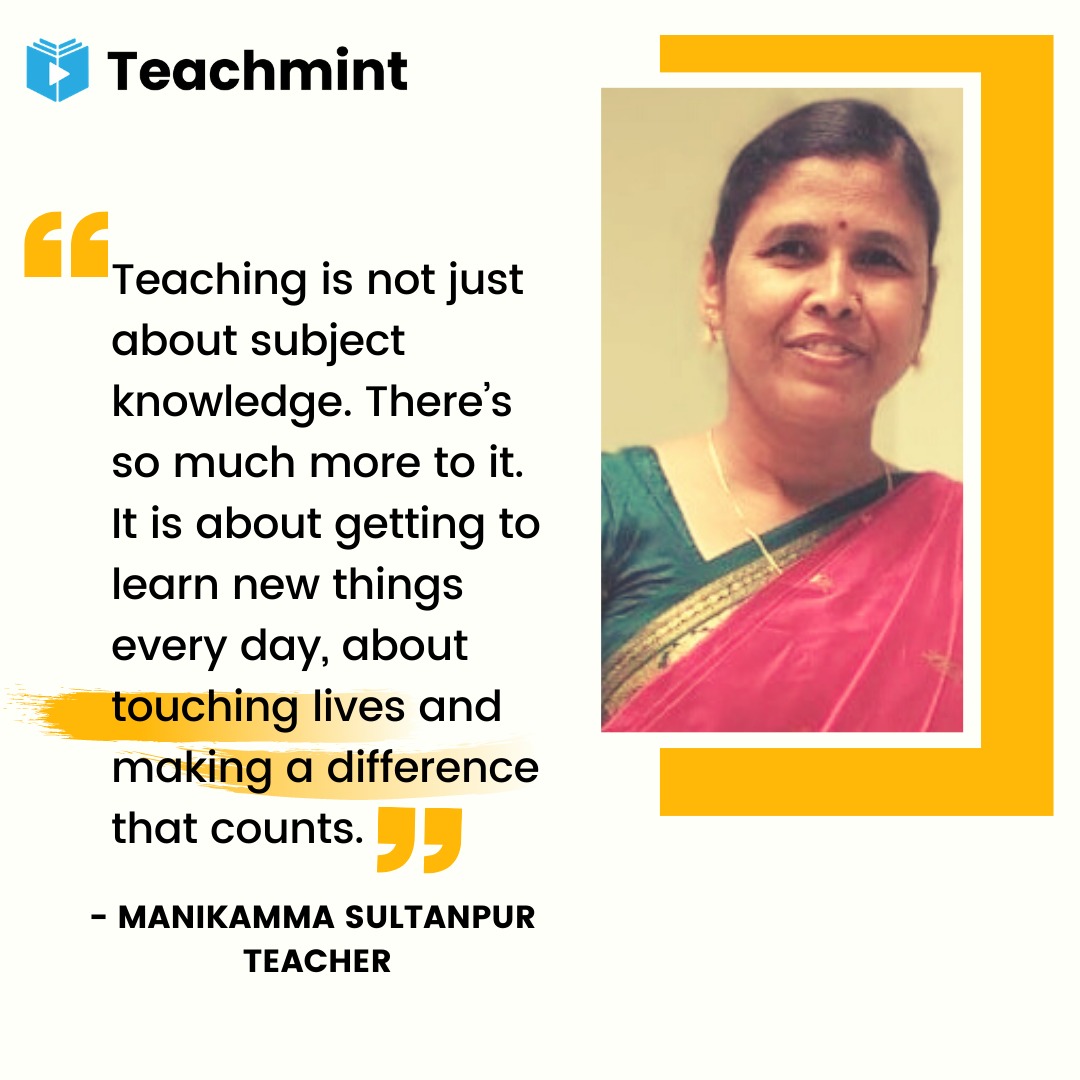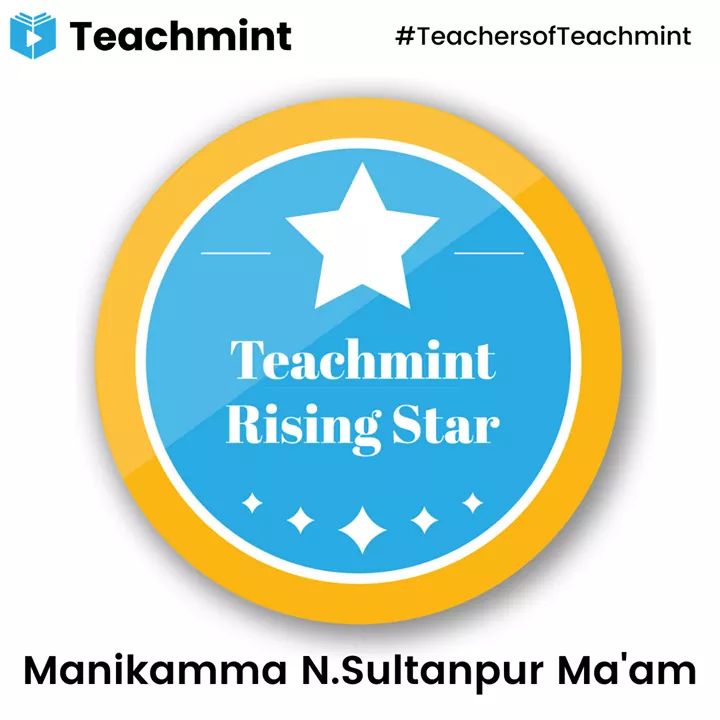 Delivered Special Lecture
Contact Details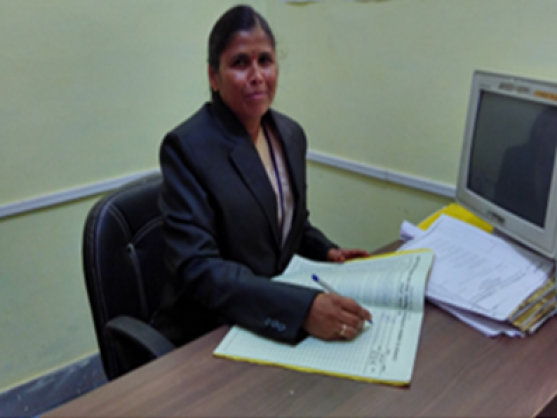 Dr. Manikamma N. Sultanpur
m.a, ph.D,net,jrf,slet
Asst. Professor Dept. of Sociology
Email: mnsultanpur@gmail.com
Ph: 99726897272
News and Events
NPTEL Local Chapter
Link https://nptel.ac.in/LocalChapter/spoc_login/home.php#
Sl.No

Title

View

1

Request Letter For Establishing SWAYAM NPTEL Local Chapter

2

NPTEL Sansaction Letter/Acknowledgement

3

Enrollment details Jun-Nov 2019,Jun-Sep 2019

4

Jul-Dec 2019 Exam Overall Results

NPTEL result
5

NPTEL Certificate

Click on Download E certificate

Click on download E certificate